* Personal & Private Chef, Catering - Tamarindo / Langosta, Costa Rica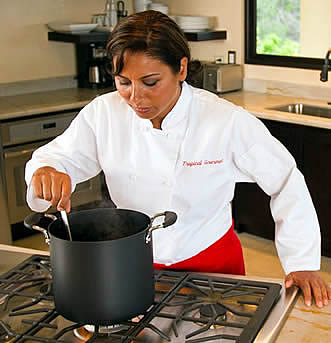 Born in India, I began my travels at a young age living in countries as far apart as Canada, the Middle East and Hong Kong. Seven years ago I closed my eyes ,stuck a thumb tack in the map of the World and two days later, found myself headed to Cost Rica! Tamarindo has since become my home!
Combining my love for Food and Travel has led me to exotic kitchens and wonderful tables around the world. From a packed Shebeen in Soweto South Africa to a simple but elegant Indochine spread served against the magnificent backdrop of the ancient temples of Angkor Wat in Cambodia and everywhere in between!
The language of food is universal and it's a wonderful pleasure to be able to bring some of these experiences combined with the rich variety of fresh, delicious products this country has to offer, to your table and to be a part of your memorable Costa Rican experience!
International Chef Bathsheba Goveas
Playa Tamarindo, Guanacaste, Costa Rica